Posted by Zoey on 9th Nov 2017
My 93 year old dad and my late uncle were twins and also proud members of the Greatest Generation. When they were 18 years old and just out of high school they both enlisted in the United States Marine Corps. It was war time (WW II to be exact) and I can't even begin to fathom the range of emotions experienced by both of my grandparents. I can only think they must have been completely overwhelmed with sentiments ranging from fear to exuberant pride and everything in between. The twins left together on a train from St. Louis Union Station in December 1942 bound for the U.S. Marine Corps Depot in San Diego, California.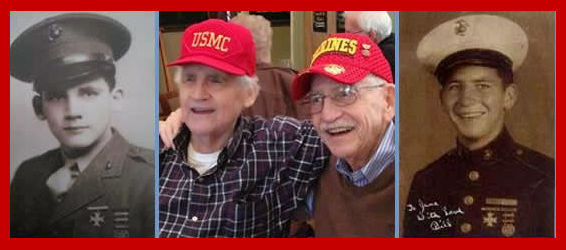 They had hoped to stay together throughout their service, but due to the tragic deaths of the Sullivan brothers this was not to be. The five Sullivan Brothers were all assigned to the USS Juneau. The ship was met with a Japanese torpedo on November 13, 1942 during the Battle of Gaudalcanal. All five siblings perished during or shortly after its sinking. Following several instances of sibling loss, the Commanding Officers were instructed not to forward requests for brothers to serve on the same ship or station. So following boot camp my father was sent to Marine Corps Rifle Range Camp Matthews in LaJolla, California for infantry training, and my uncle went to Chicago for Marine airway training. From there my father sailed to the Pearl Harbor Naval District and on to the Central and South Pacific for duty at Midway Island. My uncle also traveled overseas, first to the Philippines and then to the theater in China. During the War the twins kept track of one another via victory mail, more commonly known as v-mail. This was a process where a letter was censored, copied to film, and then printed to paper after its arrival at the intended destination. This method of communication was used to expedite mail service for American armed forces serving overseas. In late 1945, my dad arrived safely at St. Louis Union Station. From there he was sent to Camp Lejeune, North Carolina where he was honorably discharged from the United States Marine Corps. Shortly after my uncle was honorably discharged from service and also arrived safely home. When the twins celebrated their 90th birthday together in October 2014 they of course wore their Marine Corps hats! The saying "Once a Marine, always a Marine!" is oh so true!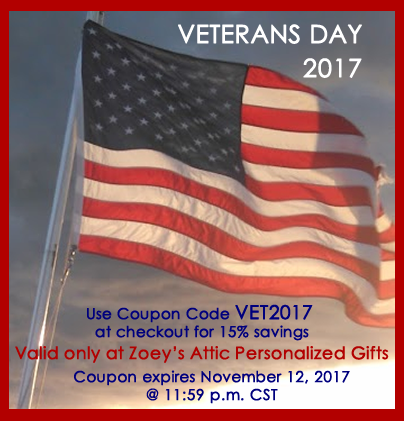 Saturday, November 11th, 2017 is Veterans Day. It is a federal U.S. holiday established to honor men and women who have served in the United States Armed Forces. Also, in honor of all veterans, Zoey's Attic is offering 15% off on your items purchased this weekend from Zoey's Attic Personalized Gifts. Just use coupon code VET2017 at checkout for your discount. The coupon code will expire on Sunday, November 12th, 2017 at 11:59 p.m. CST.
The most sincere thanks to my dad, my uncle, my brother and all men and women veterans of the U.S. Armed Forces. Your service on behalf of our great country and her people is deeply appreciated!