Posted by Zoey on 2nd Nov 2017
In the old days when you were expecting a baby you just stopped by your parents home if they lived nearby and verbally told them they were about to become grandparents. Then you made phone calls to your siblings via your rotary dial phone. Cell phones weren't even an option back then! Yes, I'm that old as the kiddos would say, but not old enough to have owned a stage coach!
Nowadays there are so many fun and unique ways to share your good news. Some couples gift the Grandparents to be with an ornament for Mom stating "Great Moms Get Promoted to Grandma" and for Dad with the saying "Great Dads Get Promoted To Grandpa." Another ornament option is the very popular Grandparents ornament with the Welsh proverb "perfect love sometimes does not come until the first grandchild".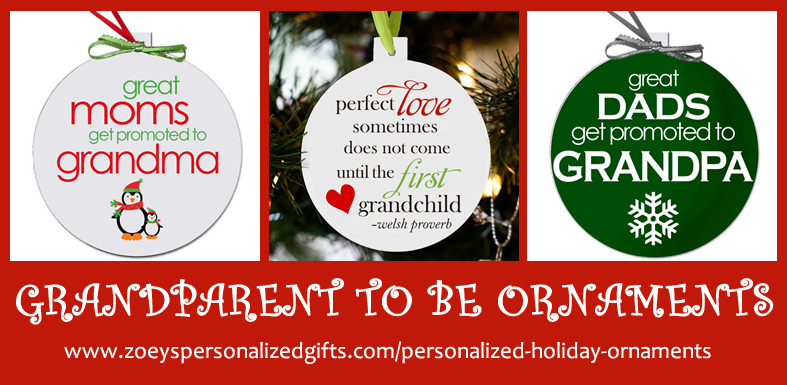 Some new parents to be have selected to give the grandparents to be a sweet newborn onesie with a special message such as "the spoiling begins..." customized with the due date, month, or whatever wording works best. An especially popular pregnancy announcement is the newborn bodysuit featuring adorable little zoo animals. Wrap it up or display the onesie prominently around the house at your next family gathering! Then enjoy the fun while family and friends figure out what the bodysuit says! It's the perfect pregnancy announcement!

It's also a lot of fun for families with older children to let the new big brother or big sister to be spill the beans while wearing a cutely designed pregnancy announcement shirt. It's so amazing to watch the kiddos' excitement when sharing the news of their new big bro or big sis status. Zoey has designed so many special announcement shirts including superhero big brother and sisters, pirates, and princesses too! There's something for everyone so take a look around our Big Sister To Be and Big Brother To Be pregnancy announcement shirts. And if you can't find exactly what you're looking for Zoey can create a new design just for you!


If you are planning a holiday announcement another sweet idea is sending a Christmas card featuring your new baby's ultrasound photo via the the old fashioned U.S. Mail. This option is available at Zoey's Attic Personalized Gifts online shop. Select a card style and customize with your special wording, colors, anything you like. Then upload your baby's sonogram picture and our designer will create your one of a kind holiday card. You can even add a Santa hat if desired! You will receive a proof and after your approval of the design the order will go to print. The greeting cards are printed on premium, 14pt glossy card stock and ship to you directly from our print provider. They are 5" x 7" in size, include envelopes, and are available in a variety of quantities from 25 to 200 cards. And if you've waited a bit too long to order your holiday cards Zoey's Attic Personalized Gifts has a PRINT at HOME option that allows you to take the digital file we create for you and upload to your favorite print provider such as Walgreens, Sams, Target, or Costco. We don't provide the envelopes with this format so you will have to ask your print provider or purchase the envelopes at a local office supply or craft store.

However you decide to share your good news this holiday season just have fun and enjoy the moment!