Posted by Zoey on 25th Sep 2017
Christmas is only three months from today! Before we know it we will be decorating our homes and Christmas trees in anticipation of Santa's arrival. During the course of the year there are often many "firsts" to celebrate and what better way to commemorate these special events than with a keepsake holiday ornament? Possibly this past year you have celebrated an engagement, a wedding, the arrival of a precious new baby, or perhaps a new home. There is even an ornament for the "totality" awesome Solar Eclipse! And if there is a special occasion you would like to memorialize the designers at Zoey's Attic can create a unique one of a kind ornament just for you!
Each ornament can be personalized with any special names, dates, wording, whatever you like. There are options available when purchasing the ornament for a one sided design only with wording, or you can select an ornament with the same design on front and back, or a front sided design with your special wording and design on the back. Zoey can accommodate whatever your specific needs are for your custom holiday ornament. Each ornament comes with a ribbon ready for hanging. Color and type however may vary based on the ornamental design.
It's especially fun during the holidays to share news with family and friends of an expected new year arrival. Imagine the surprise when the new grandparents to be are presented with a keepsake ornament designating their promotion to grandpa and grandma!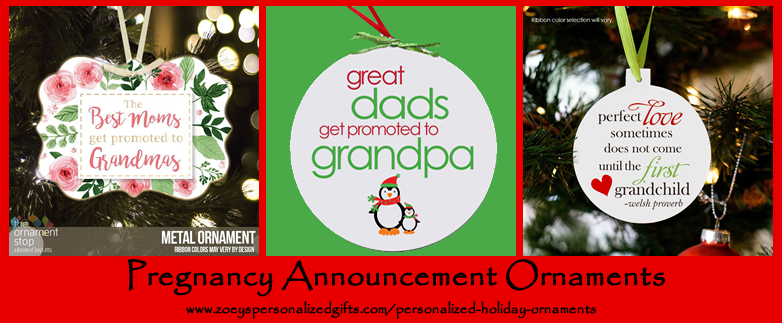 Zoey's Attic along with Zoey's Holiday OrnamentStop is also very excited to introduce our new wood style ornaments! First, there is a natural maple wood ornament measuring approximately 3.95 x 2.76 inches. Photos can also be used on this style ornament and makes the sweetest keepsake of your baby's First Christmas! It's easy to order and you conveniently upload your photo during the ordering process.

The newest wood style ornament is an actual cut pine wood piece of unfinished natural wood circles with tree bark. Also, it's normal for some of the wood bark to partially fall from the slices so no need to be alarmed. Since these are natural wood slices the ornaments will come in variable sizes typically ranging from about 2.8 to 3.2 inches. The ornament is printed on natural pine wood, pre-sanded and polished and also includes a ribbon for hanging. These popular one-of-a-kind pine wood ornaments are an awesome complement to a themed rustic holiday decor!

And if you prefer a metal ornament, no problem! Any design also be made on an aluminum ornament. We offer a few different sizes including a square shape measuring 2.95 x 2.95 inches and a rectangular shape approximately sized at 3.95 x 2.76 inches. There is also a 3 inch round reinforced plastic fiberglass ornament. This type ornament is lightweight and won't weigh down the tree branches. They're almost impossible to break too which is great when you have curious little ones and furry animals exploring the Christmas tree!
You will find our uniquely adorable personalized holiday ornaments are totally cool and make the sweetest gifts ever! Be sure to check back often as we continue to add new and exciting designs for the Holiday Season!