April is flying by and where did it go? It's almost May Day and I'm looking forward to all the Mother's Day festivities! May is by far my favorite month of the year. As a kiddo, when May arrived, it was the month that finally brought warm weather, and we played outside until Mom called us home at dark. It was also the end of the school year and in just a few short weeks the much anticipated summer vacation would begin. We also celebrated several family birthdays during May, and I even chose a date in May for my wedding. However, the most remembered May date ever was my very first Mother's Day. The memory is forever etched not only in my mind, but also in my heart. I will always remember that morning seeing my sweet first born baby girl sitting in the middle of our bed holding a bottle of my favorite perfume. The bottle has been empty for oh so many years now, but I have kept it as a special keepsake of my very first Mother's Day. Being "mom" is the most precious gift of all.
Why not surprise your mom, stepmom, mother-in-law, or grandma with a special Mother's Day gift this May 13th? She will love receiving a shirt or gift from Zoey's Attic Personalized Gifts with your very own custom message. Be sure to check out our CUSTOMER FAVORITES for the 2018 Mother's Day!
The adorable "Mommy and Baby Matching Bear" shirt set from Zoey's Attic is our #1 seller this year! The shirt and bodysuit are personalized with Mommy and her baby's name. There is a set for both boys with a blue paw print and arrow and for girls with pink paw print and arrow. Mom's shirt is available in white, gray, light blue, or light pink colors. The baby's bodysuit or t-shirt if preferred is also available in white, gray, light blue, and light pink colors. Imagine the Mother's Day photo ops with mommy and her precious little one!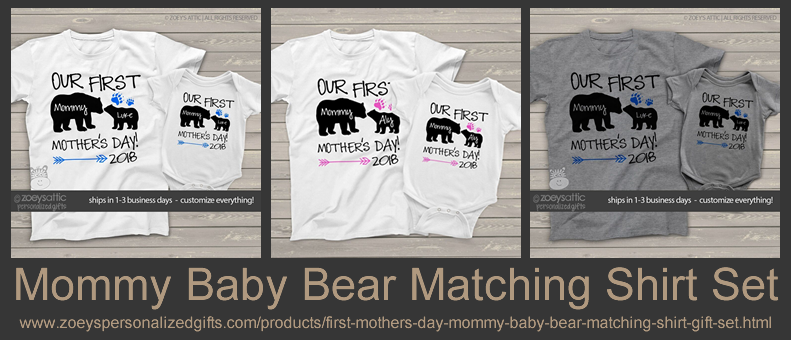 Another HOT SELLER this Spring season is the "Mama Bear" stainless steel tumbler with optional photo of Mommy and her baby. It's an FDA approved "Simple Modern 30oz Cruiser Tumbler" with vacuum insulated double wall. The photo option is simple to add with upload of your picture directly from our website. And as always with our Zoey's Attic products the wording and ink colors are completely customizable too!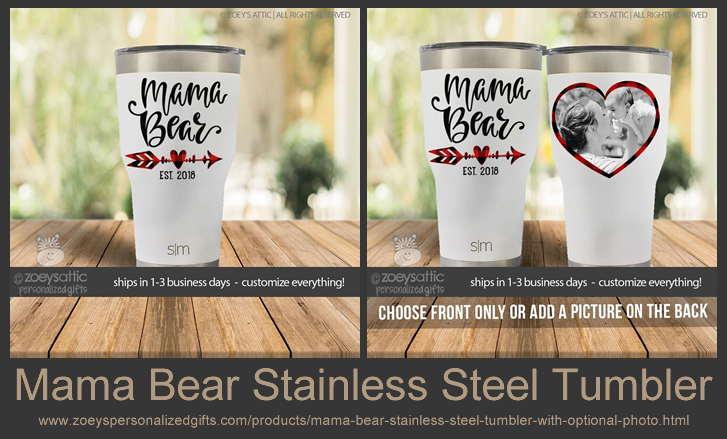 Personalized picture frames are always a customer favorite! Zoey's has two special frames this Mother's Day that have been competing neck and neck for top billing. The ever so sweet " Our First Mother's Day Together" 8 x 10 inch wood panel frame with 4 x 6 inch photo insert makes the sweetest most thoughtful gift ever! The buffalo plaid design is so popular this year and the red and black plaid bear "Mommy & Baby" frame is another hugely popular gift.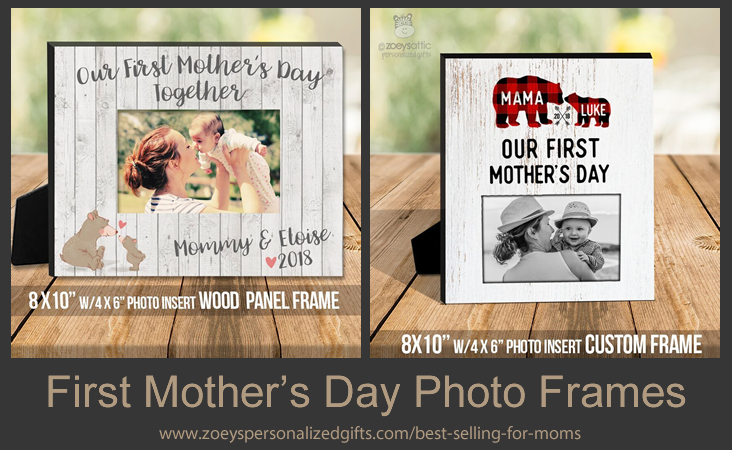 We must not forget Grandma or Nana or GiGi or whatever title you call her! This year's most sought after gift for Grandma is the flour sack tea towel personalized with one of her favorite recipes. There's also a matching apron making it the perfect gift set! This custom tea towel makes a truly amazing and most thoughtful keepsake for your very special Grandma.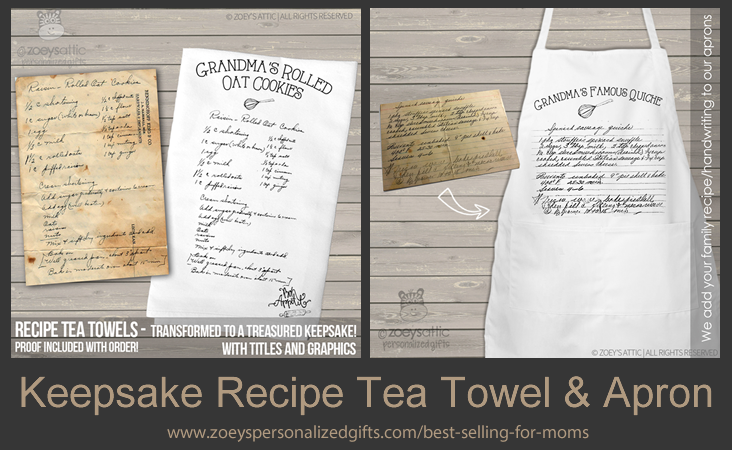 Oh, and we also have a special promo code for you! Just enter coupon code MOM18 at checkout and save 10% on the items in your shopping cart. Valid only at our Zoey's Attic Personalized Gifts online shop. Coupon expires May 13th, 2018 @ 11:59 p.m. CDT. Wishing you a totally awesome Mother's Day!
Recent Posts
Easter is early this year, April 4th to be exact. So, it's time to hop to it and get your Easter …

Have you been vaccinated yet for Covid-19? Did you receive the Moderna two shot vaccine …

A few years past, one of my Christmas gifts was an Ancestry.com DNA Genealogy kit. It sat …