When my husband and I marrried a few hundred years ago (just seems that way!) we each brought family traditions that have passed from generation to generation. Some of our Easter Sunday customs were similar such as searching for our hidden Easter baskets very early on Easter morn. This was followed by services at our local Parish Church. Then our immediate families ate a light brunch in anticipation of a larger family gathering later in the day. The afternoon brought the much anticipated annual Easter egg hunt with real dyed eggs along with plastic eggs filled with small toys or coins. The traditional Easter meal entree for most everyone I knew was typically ham. However, for both of our families it has been a long standing tradition to barbecue chicken, ribs, and hamburgers. An Easter barbecue was the perfect way to usher in Spring and the upcoming summer season. Accompanying side dishes included corn on the cob, Watergate pineapple pistacchio jello salad, and mom's famous and ever so delicious potato salad. We always said Mom should market her potato salad as it really was the best ever! Strawberry short cake with lots of whipped cream was the perfect dessert! These were the Easter Day commonalities our families shared. There were also a few things our families did differently, and we have added them to our own unique family traditions. For example, when I was a little girl my mom would make me the most beautiful Easter bonnet, and it was always just perfect! I can still remember how excited I was to see the Easter hat my mom had created just for me, and I have also continued this tradition with our daughter.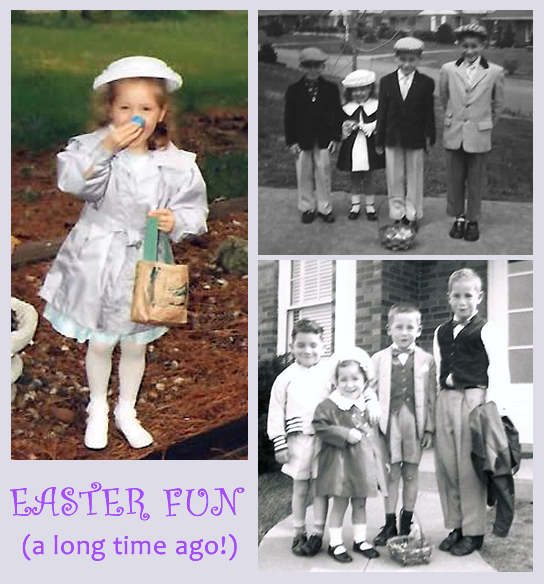 Oh, and our doggies always get baskets from the Magic Bunny too!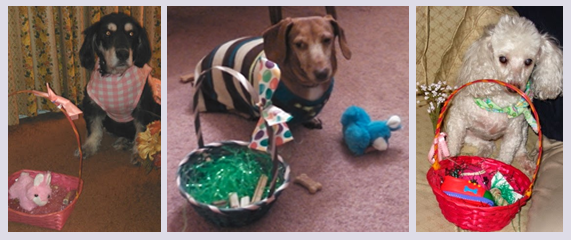 On my husband's side his Mom made sure everyone's Easter basket was filled with several chocolate covered marshmallow eggs and also had a huge solid chocolate Easter bunny as the centerpiece. The bunny was always from a well known chocolatier and my husband reports it was divine! To everyone's (especially the chocoholics like me!) benefit we have continued this tradition as well. Another difference between our family celebrations was that the Easter Bunny always left the kiddos in my family an Easter plush such as a bunny, lamb, or Easter chick in addition to our basket of candy. It was a sweet keepsake cherished year after year, many of which I still have and use currently as Easter decorations in my present day home. This is a tradition I have especially loved and continue to this day. So, if you are looking for a cuddly soft Easter gift for your little ones Zoey's Attic can help. Zoey offers adorable Angel Dear lamb and bunny lovies, bunny curved pillows, and a sweet ducky napping blanket. All of these items can be personalized with an embroidered name making it an "egg"xtra special Easter gift. Whatever your Easter traditions may be, these are some of the special gifts that will link the generations for years to come.
Oh, and you can now save 10% on your Easter shirts and gifts from Zoey's Attic Personalized Gifts. Just enter coupon code BUNNY18 at checkout for your discount on items in your shopping cart. Coupon will expire on Easter Sunday, April 1st, 2018 and is valid only at our Zoey's Attic Personalized Gifts online shop.
Recent Posts
Easter is early this year, April 4th to be exact. So, it's time to hop to it and get your Easter …

Have you been vaccinated yet for Covid-19? Did you receive the Moderna two shot vaccine …

A few years past, one of my Christmas gifts was an Ancestry.com DNA Genealogy kit. It sat …