One of the milestone events of every school year is the 100th day of learning.The 100th day of school most commonly falls sometime in January or February, dependent upon the first day of the school year. No matter your current grade level, you should be 100 days smarter when this day arrives! It is said that the idea for this popular school day came about in the 1990s along with the "new" math (which I am still trying to master!). Following the holiday break faculty and students begin planning fun activities for the 100th day observance. A few years past the designers at Zoey's Attic Personalized Gifts were asked to create 100 day shirts that both teachers and students could wear on this special day. Every year since Zoey has continued to add new and exciting designs to the 100th day collection.
The tally mark 100 day smarter design was one of Zoey's Attic Personalized Gifts first 100 day listings and continues to be our top selling shirt for the 100 day event. It originally had some of the tally marks traversing in opposite directions but this proved to be annoying for many of our teachers. So Zoey listened to our teachers and changed the design to accommodate the teachers' request for a more uniform tally mark design. This design is available on lighter colored crew neck tees including white, gray, light pink, and light blue. It can also me made on darker colored tees including, navy, black, heather navy, purple and teal. However, the design is most often purchased on an adult unisex raglan style shirt. These shirts come in a variety of sleeve colors and our teachers tell us this is a comfortable shirt to wear.
This year's new sparkly gold pink flamingo 100 days smarter flock unisex adult raglan shirt has been a huge hit with our teachers! It can be made with gold foil or gold glitter vinyl (you choose!). The vinyl is not messy at all and won't come off on hands or in the wash.
Some schools opt to recognize the 101st day of learning and Zoey's Attic Personalized Gifts adorable "Let's Celebrate & Play" 101 day dalmation shirt is perfect for the big event! The unisex raglan style shirt is the most popular style choice with the dark tee following closely behind.
Students love dressing up for the 100th day also! Zoey's original band aid design "I survived 100 Days" kids t-shirt continues to be a kid customer favorite followed closely by the 100 days smarter monster dark tshirt. The 100 day monster design for students can also be made on a white, gray, light blue, or light pink kids t-shirt. Both designs are available on kids slim fit and youth fit sporty raglan style shirts as well as the plain light colored tees.
The "100 Days Have Flown By" airplane shirt is new this year and has already become a kid favorite! It's available in a slim fit or youth raglan style shirt in variety of sleeve colors.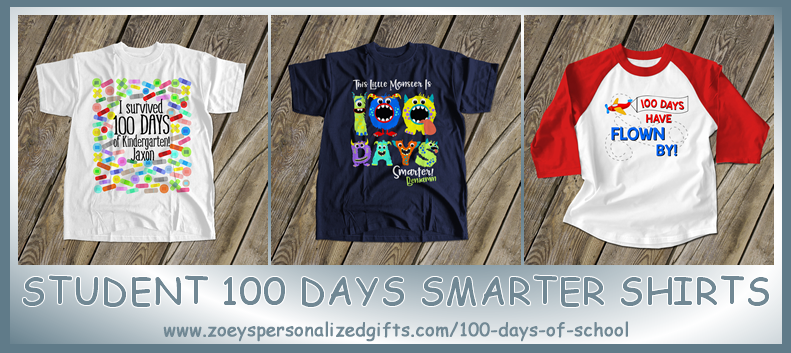 We have many requests for custom themes so be sure to check back often for new 100 day designs!
Recent Posts
A few years past, one of my Christmas gifts was an Ancestry.com DNA Genealogy kit. It sat …

Are you as excited as I am for Super Bowl LV? This year it's being played on Sunday, Fe …