How "we" began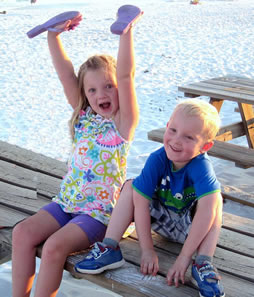 Zoey's Attic officially launched in November 2006 by creator and owner - me - Erin Delanty. The inspiration for the website came shortly after my husband and I, welcomed the birth of our first child, baby Bridget, in August of that year. Bridget offiially became a big sister herself in May of 2008 and the inspiration continues!
After searching unsuccessfully for out-of-the-ordinary newborn baby tees on-line and listening to friends who were having difficulty finding unique big brother/big sister gear, I decided to use my background as a graphic designer and web developer to design my own line of products.
My initial idea was to create a web-based shop where new parents and parents-to-be could involve all members of the family in exciting "baby news" by offering a variety of pregnancy or baby announcements and hard-to-find big brother/sister tees.
Zoey's Attic sold its first shirt just two days after launching the website and development has expanded based on the initial and continuing positive response.
We've since grown to offer many more products for the whole family and look forward to everything in the works for 2016!
Inspiration is easy - family and friends inspire me the most – by watching my own baby grow and observing my parents become grandparents, I constantly see new ways of looking at the world. I like to think (well, of course I do) but I really do believe that Zoey's Attic offers cool, unique big brother and big sister products that reflect a fun, unique time of life for multiple generations.
Who is Zoey and where is her attic?
I often get called Zoey and asked about the origin of the name of the business. Looking for a name that had meaning to my status as a new mom, I settled on Bridget's early favorite toy – a stuffed zebra. "Zoey" the zebra was given to Bridget when she was born by my mom. It was the perfect name to connect three generations.

…and everyone knows that there are wonderful, unexpected treasures to be found in an attic.