The elves at Zoey's Attic Personalized Gifts have been very busy preparing your holiday shirts and gifts for delivery in time for Santa's arrival! Zoey has added lots of new designs including a holiday cutting board personalized with your favorite recipe, family ornaments, and shirt sets perfect for Christmas jammies! We've noticed a trend in some of our new shirts and gifts and wanted to share our BEST SELLERS for Christmas 2017.
Our TOP SELLING gift for this holiday season is the adorable 1st Christmas " Best Present Ever" photo metal ornament. We've seen so many precious baby photos making this an absolute joy to process for our guests! Just upload your baby's photo and let us know baby's name and date of birth and our designers will create the most precious keepsake ever! And if you have twins, no problem! We've got you covered for multiples too! This aluminum ornament is 3.95" x 2.76" in size and also makes the sweetest gift for the new Grandparents. Our ornaments are delivered beautifully packaged and ready for gift giving! There are several new and very popular holiday ornaments for the entire family so be sure to check them out in our Holiday Shop.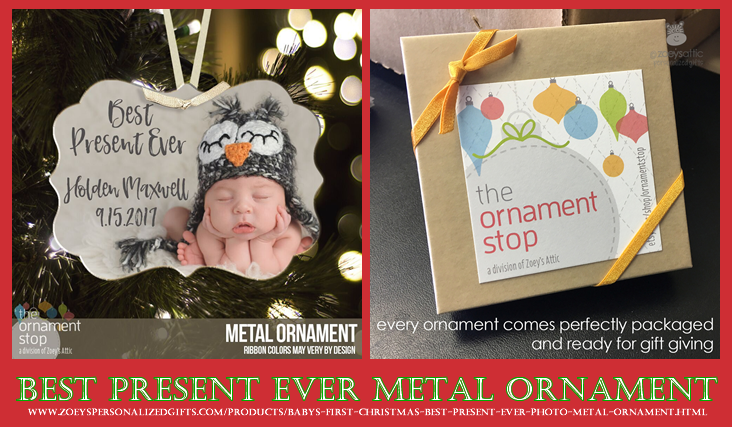 There must be a lot of new babies on the way too! We're processing maternity tops all day long! The "Our Christmas Present Came Early" maternity top complete with due month and year is this season's favorite! So much fun making a surprise pregnancy announcement this Christmas! And, if you aren't very far along in the pregnancy it can also be made on a non-maternity style shirt. Our maternity shirts do not have ruching and are not super fitted. Customer feedback is the maternity tops run fairly true to pre-pregnancy size. So unless you like a bigger fit and a little room to grow, you don't usually need to order up. However, it's always best to check the size chart that is located on each product page to be absolutely sure you get the fit that works best for you.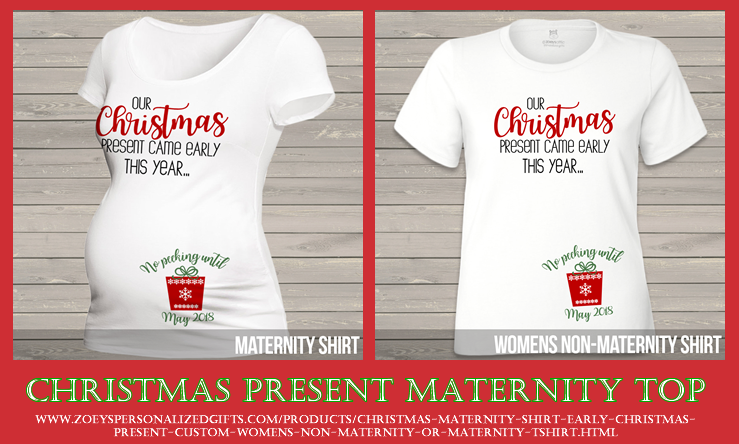 Watching National Lampoon's " Christmas Vacation" movie as a kickoff to the holiday season is a family tradition! The new "Retro Family Christmas" design featuring a wood panel station wagon hauling a freshly cut tree atop is just what our family needs! This shirt brings back so many fond memories of everyone from kids to grandparents piling in our woody wagon to drive around the neighborhoods to view the homes so beautifully decorated for Christmas. I'm guessing a lot of my contemporaries like this movie too as our unisex raglan style shirt has proven to be a top seller for men and women. This fun shirt is also available on a white or gray t-shirt in sizes for everyone in the family.
Zoey's Attic pregnancy announcement shirts for the new daddy and mommy to be are hot items this holiday season! The " Turkey In The Oven" Thanksgiving shirt set sold so fast it was difficult keeping up with the demand.. but we did! And now the "Oh Deer! Drinking / Eating For Two" and "Cookie In Oven" pregnancy announcement shirt sets are wildly popular! The shirts are basic men's sized raglan shirts, not fitted women's tees and not a maternity top. Many of our happy customers love the style and comfort of this fit. However, if the unisex raglan style shirt is not your style, please contact us for assistance in selecting alternative shirt options. As always, any design can be made on any style shirt just for you.
Lastly, family photos with everyone dressed in festive pajamas are all the rage. While Zoey's Attic doesn't currently offer pajama bottoms we do have comfy holidays tops that make the best Christmas jammie family shirts. Bundles for a family of three or four are available on our website and additional shirts can be added to any set if needed. We've even made family shirts for the grandparents, aunts, uncles, cousins, and family friends too. Our most sought after family shirt set this Christmas season has been the " Red Plaid Bear" matching set for four followed closely by the "First Christmas Family Bear" shirt set for three. And, don't forget the adorably sweet matching ornaments!

So many fun ideas for the holidays! Be sure to check back often as we continue to add new shirt designs and gift options for Holiday 2017!