Did you know Zoey's Attic Personalized Gifts is a favorite shop for teachers? Over the past several years we've outfitted so many of our teacher friends with back to school shirts, 100 days of school shirts, and end of year tees and we are so grateful for their support! If you have a special teacher why not check us out for a special gift this holiday season?
Our "LOVE" themed personalized raglan style shirt went viral when it was first introduced a few years past and it continues to be our best selling item for our female teachers. It can be personalized (if desired of course) with your teacher's name, school name, and grade level. You can even change the wording for your music teacher, physical education teacher, school counselor, reading instructor, even the principal. Any design in Zoey's Attic shop can be customized for your unique wording, grade level, year, just about whatever you would need! You can also change the ink colors to match your school colors. The matching tote is perfect for hauling school books and papers and the acrylic mason jar tumbler completes the set. It's 22 ounces in size and comes with a lid and straw. The tumbler meets FDA requirements and is BPA free.

Zoey's Attic "Get Your Cray On" unisex raglan style shirt is in our TOP 5 gifts for teachers this holiday season. Many of our male teachers also like this design making it a best seller for both our women and men teachers. In addition, the colors on the text can be changed to reflect your school colors. This popular "cray on" design is also available on a basic unisex crew neck t-shirt and a v-neck style is also an option for our women teachers. And there is a matching tall skinny acrylic tumbler too.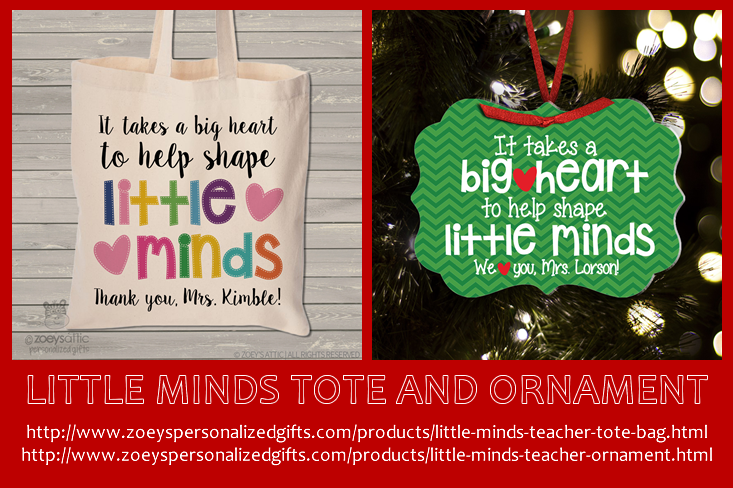 Our custom tote bags are hugely popular gifts this holiday season and you can select from several designs that your teacher will surely love. Our BEST SELLING gift tote for teachers is the adorable "It takes a big heart to help shape little minds" canvas bag. It's available in a lightweight value bag and also a slightly larger heavyweight style with a gusset bottom. You can even personalize it with your own wording and add the teacher's name to the bottom of the bag. Slip a matching ornament inside the bag for an extra special touch!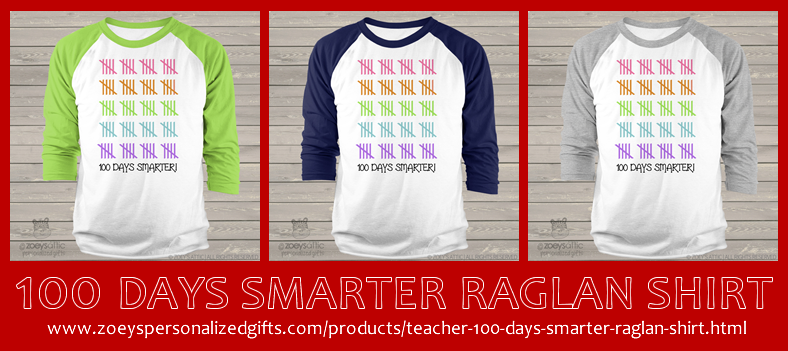 When I was in grade school (back in the stone age!) there was no such thing as a 100th day of school celebration! Well, I've since learned this is a really big deal! We have outfitted so many teachers for this event and apparently this is a hot item on the Christmas gift list for teachers this year. Zoey's Attic Personalized Gifts "100 Days Smarter" unisex raglan style shirt with 100 tally marks is the top selling 100th day shirt for teachers. The color of the tally marks can be changed to more masculine colors making this a favorite shirt for male colleagues as well.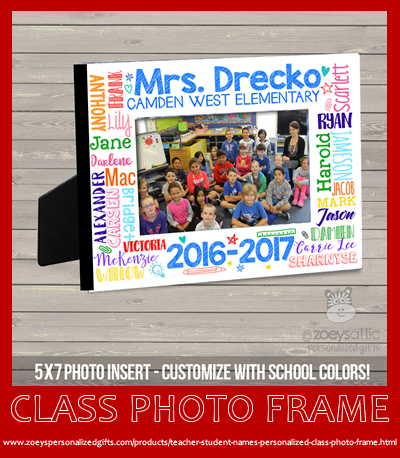 Lastly to round out our TOP FIVE gifts for teachers is our " Class Photo Frame" personalized with school name teacher's name, and all the student's names as well. It's a gloss white sublimation surface 8" x 10" frame and holds a 5" x 7" photograph. The photo frame and the text are also completely customizable for ink colors.
You still have plenty of time to find the oh so perfect gift for a special teacher! You will most certainly earn high marks with a unique personalized gift from Zoey's Attic Personalized Gifts!